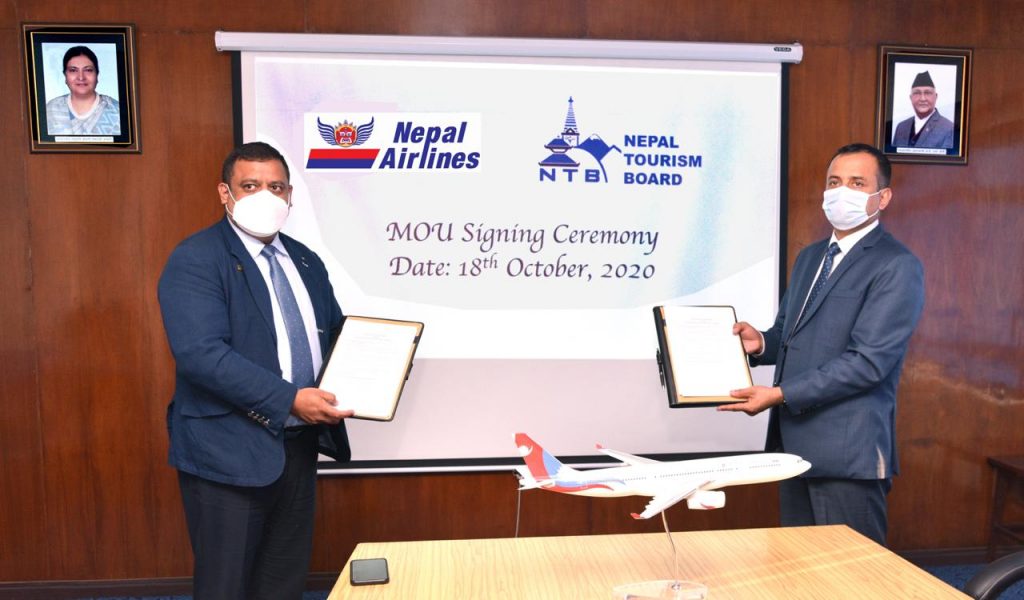 Kathmandu: Nepal Tourism Board (NTB) and the national flag carrier, Nepal Airlines Corporation (NAC) has signed an agreement today to cooperate in various aspects of Nepal's tourism promotion. The agreement ensures cooperation of NTB and NAC in various areas such as joint promotional projects, introductory visits, branding, international level tourism-related programs to be organized in Nepal among others.
The agreement between the NTB and NAC has been formed in the concept of public-private partnership with the objective of promoting Nepal as a major attractive tourist destination in the international market. Both the organizations have expected this agreement to play an important role in promoting the tourism sector.
Signing the agreement, Chief Executive Office of NTB Dhananjay Regmi said that in the midst of the current crisis created by the Covid-19 pandemic, this kind of cooperation would further strengthen the multi-faceted relationship between the two organizations and give them more energy and strength to fight the crisis. He also mentioned that this agreement would prove to be a cornerstone for the effective promotion of Nepal at the international level.
On behalf of NTB, CEO Dhananjay Regmi and General Manager of Nepal Airlines Corporation Dim Prasad Poudel have signed the agreement.